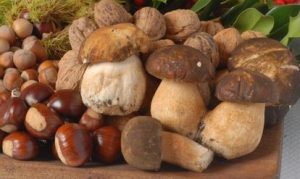 Sunday, 10/23/2016
Spoleto (PG)
A day dedicated to the collection of chestnuts and mushrooms, walking under the centuries old trees of Prof. Viola. There will be experts of the Mycological Group "Spoleto Valley" .
The Meeting of the participants is at 10:00 am Sunday, Oct. 23 at the 1st turn right on S.S. Flaminia towards Terni, with the indication Montebibico from which we continue together.
We will offer participants a breakfast of "bruschetta" and "sliced" and they will roast the chestnuts gathered.
Lunch is planned at the Restaurant "La Luna Piena" at a cost of € 18.00 each; and it will also be held in case of rain, by going directly to the restaurant, beginning at 13:00, where will be present the mycologists who will give explanations on the mushrooms.
Menu:
House starter
Autumn risotto
Breast of veal with potatoes
Mixed salad
Home Sweet
water
house wine
coffee
COST OF PARTICIPATION :
Adults € 18.00
Children under 10 years € 10.00
Info and Reservations:
Associazione Pro Loco di Spoleto "A. Busetti"
Via Minervio, 2 – Spoleto
331/8855493  349/3722424
prospoleto@gmail.com